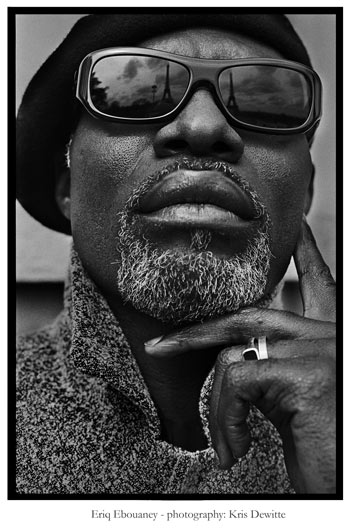 Eriq Ebouaney , dont la prestance est souvent marquée par une image forte, un caractère vif et une présence impressionnante. Eriq Ebouaney est né à Angers (Maine & Loire) de parents camerounais, après des études de commerce international il se lance dans sa passion pour le théâtre et le cinéma.
Assez rapidement il commence à vivre de son métier en intégrant la Cie La Baignoire, ensuite il travaille des textes d'Euripide, Tennessee Williams, Koltès, et puis au théâtre privé au côté de Michel Galabru La poule aux œufs d'or, et Bernard Tapie dans Vol au dessus d'un Nid de Coucou, et actuellement dans la pièce Edmond de Alexis Michalik.
Mais c'est au cinéma dans son rôle de « Bad guy » dans Femme Fatale de Brian de Palma et le rôle principal dans Lumumba de Raoul Peck qu'il se fait connaître du grand public.
Depuis cette mutation entreprise il y a vingt ans, il a collaboré avec des comédiens et des réalisateurs de renommée internationale parmi lesquels Gérard Depardieu, Jean Dujardin, Jean Reno, Benoit Magimel, Alexandra Lamy, Sandrine Bonnaire, Orlando Bloom, Liam Neeson, John Malkovich, Antonio Banderas, Ridley Scott, Brian de Palma, Park ChanWook, Olivier Assayas, Jean-Jacques Annaud.

Eriq Ebouaney was born in France, but spent most of his childhood in his parent's native country of Cameroon. Ebouaney and his family moved back to Paris when he was 12 where he finished secondary school and then went into a business school.  Having had no prior experience or acting training, Ebouaney joined a theatre company, Companie La Baignoire, in the mid-90's and never looked back.  He continued to work on stage with several French theatre groups, until he got his first lead in Raoul Peck film Lumumba.
Since then, he had worked with Gérard Depardieu, Jean Reno , Antonio Banderas , Liam Neeson , Orlando Bloom , James Frain , Julian Sands, Tahar Rahim, John Malkovich, Kevin Costner…and with such directors as Brian de Palma , Ridley Scott, Olivier Dahan, Olivier Assayas, Jean-Jacques Annaud, Park Chan Wook…
His films roles include a bunch of films produced around the globe including the American films The Transporter 3, Hitman, Three days to kill, the South African drama Cape of Good Hope, the Irish thriller The Frontline, the italian comedy Bianco e Nero, the Australian drama Disgrace, the Korean horror film Thirst, as well as the french comedies Case Départ and the Crocodile of Botswanga. He lives in Paris.



Filmographie
2021 :
Fox Hunt
2020 :
Bronx
2019 :
La Terre et le Sang
2018 :
Domino
Belleville's Cop
Une Saison en France

2017 :
Le Passé devant Nous
The China Salesman
Maman(s) « Césars du court Métrage »
2016 :
Maman(s) (Césars court métrage 2017)
Le Gang des Antillais
2015 :
Boomerang
Paranoïa Park
Nous trois ou rien
2014 :
Le Crocodile du Botswanga
3 Days to Kill
SMS
2013 : Dakar trottoirs
2012 : Stalingrad Lovers
2011 :
Case départ
Or noir
2010 : Le temps de la kermesse est terminé
2009 :
35 Rhums
Lignes de front
600 Kilos d'or pur
2008 :
Comme les autres
Le Transporteur III
Thirst, ceci est mon sang
Disgrace
La Horde
2007 :
Africa Paradis
Hitman
2006 : La Nativité
2005 : Le Silence de la foret
2004 :
La Piste
Kingdom of Heaven
2003 : San Antonio
2002 : Femme fatale
2001 : Pas d'histoire ! Regards sur le racisme au quotidien
2000 : Lumumba
Séries tv
Clash
Metal Hurlant Chronicles